Any time of year is perfect for watching wildlife in Angus.  Home to the most amazing iconic Scottish species you could hope to see, the landscapes they call home are amongst some of the most beautiful Scotland has to offer. 
As we leave Winter behind and enjoy the first hints of spring, this is as good a time as any to enjoy a spot wildlife watching in Angus. This spring, the pandemic may limit our exploration of the countryside, but often wonderful wildlife can be right under your nose. Sometimes you have to look that little bit harder…but that's all part of the fun.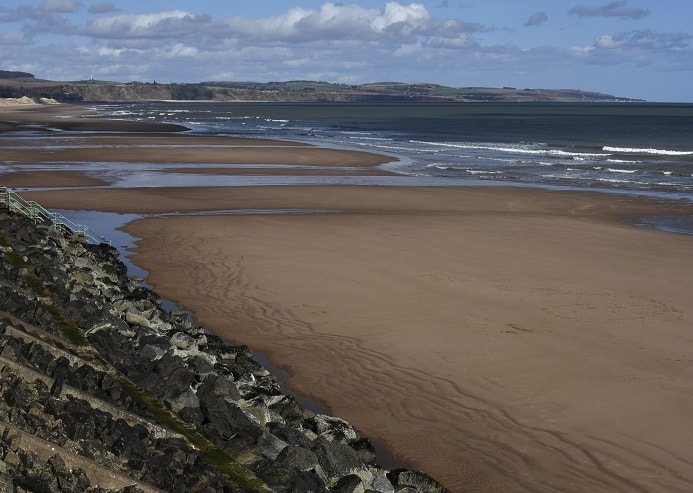 A glorious coastline ready for exploring
Enjoy exploring the golden sands, rocky headlands, ancient cliffs, and awe-inspiring estuaries of Angus. Fifty miles of fantastic coastline means there's something for everyone. Take time to look for a wealth of wildlife – from wading birds by the thousands to grey and common seals bobbing in the waves, and even the occasional humpback whale!
If beachcombing is your thing you can spend hours leisurely exploring our varied shoreline, the sound of fabulous seabirds adding to your experience. Wild weather needn't be a problem, soak up atmospheric surging storms and wonder at beautiful winter sunrises, take in the many hues of the North Sea as the weather changes – four seasons in a day may well be true.
After all that fresh air, take time to enjoy a well-deserved comfort stop in one of our many cosy, coastal eateries.  Serving up the local seafood treats Angus is well known for, your coastal experience will continue as you savour fresh produce that is unrivalled.
Head to the glittering, wild hills, and glens
Are snow-capped peaks and purple heather moors how you picture the Scottish uplands? If so, head into the Angus Glens, the very accessible southern range of the Cairngorm Mountains. Take as long as you need to explore the UK's largest National Park and its hinterlands, stretching back towards the rugged coast. An abundance of iconic Scottish species including golden eagle, red deer, red squirrel, and Scottish wildcat call the Glens' home. Elusive species such pine marten and red kite are growing in numbers in Angus and add to the exciting kinds of wildlife you might see signs of.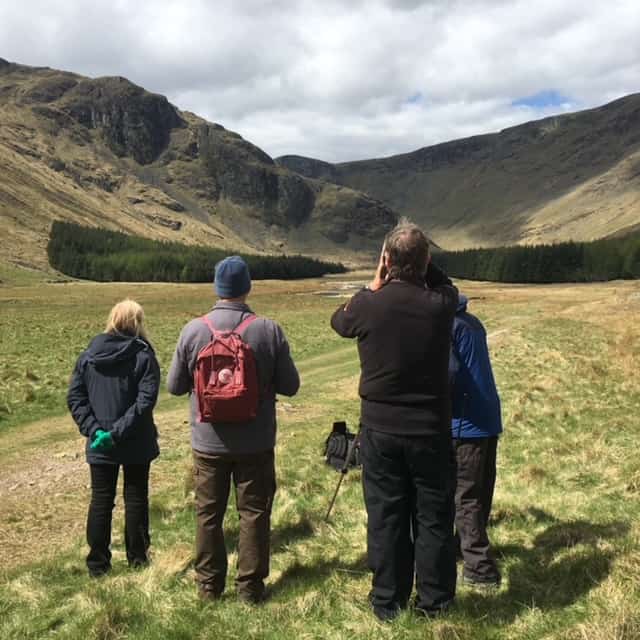 Breath taking surprises around every corner
All that said, some of our wildlife like to put on a show –  late winter is a  great time  to watch some of our most spectacular upland birds including the raven and golden eagle display, as they prepare to breed. Autumn sees the return of migrant species including pink-footed geese that can be seen at Montrose Basin in numbers of more than 80,000. Quite a sight ..and sound! No matter what you come across on your travels, the thrill will surely be in exploring our beautiful countryside.
Don't forget the city dwellers
The beautiful villages and towns of Angus nestling amongst this attractive landscape are home to exciting wildlife including peregrine falcons, red squirrels, otters, and even Eurasian beavers. Beaver signs are relatively easy to spot if you know where to look – keep your eyes peeled around Forfar Loch in particular. Explore the town path and cycle networks; they may just take you on mini wildlife adventures and lure you out into the wider countryside. The beauty of wildlife watching, whatever the season, is that before long – everything changes, all your favourite spots and the unexplored, always have something new to offer. 
At the time of writing Scottish Government Covid 19 guidance doesn't allow travel out with your own Local Authority area. Whether you're at home here in Angus or hoping to visit in the future the Scottish Outdoor Access Code website provides up to date information on how to enjoy the countryside safely and responsibly. More information can be found here
If you are an Angus business interested in collaborative nature and adventure opportunities then contact Wild Angus at wildangus1@gmail.com to find out more about joining the 'Angus Outdoor Adventures' initiative.