The search is about to begin to find next years Ambassadogs.
Last year  the hunt began to find a dog that could help us promote all the great dog friendly things to see and do in Angus in 2019. There was a fantastic response with entries from all over Angus. But in the end, Moss the Border Collie became the first 'Angus Ambassadog' and Jarvis the retriever Puppy becoming the 'Junior Ambassadog'.
They started their new jobs just before Christmas and were soon out and about on their adventures, all the while reporting back through social media to Dog friendly Angus HQ.
Nights away in luxury accommodation, fine dining in restaurants, pamper sessions at groomers – it's a dog's life, eh?
There have been a few changes over the past year. Due to popular demand, Dog friendly Angus is now 'Dog friendly Angus and Dundee' and the members group has continued to attract more and more members.  A Dog Friendly Angus and Dundee page  launched to go alongside the group on Facebook as well as a increasingly popular Instagram page. Through all these changes our two Ambassadogs have been wagging their tails and barking loudly about all the experiences you can have staying and visiting Angus and Dundee with your four legged friends.
Their tenure is about to come to an end and in September and they'll hand over the mantle to two more roving reporters who'll keep on the good work. In September Dog Friendly Angus and Dundee will be announcing when they'll start the search to find ambassadors for 2020.
Angus Ambassadogs 2019
Two intrepid pooches are doing their bit to promote dog-friendly tourism in Angus. Moss the 5 year old Bordie Collie has been named as the 'Angus Ambassadog' in a competition run by Dog friendly Angus, along with Jarvis, a Golden Retriever puppy, who will be providing assistance in the role of 'Junior Ambassadog'.
Moss and Jarvis will spearhead the Dog Friendly Angus campaign and spend the next year sniffing out all the great things to experience on a visit to Angus in an attempt to promote the County as a dog friendly destination.
Katherine Thomas, owner of Moss, was delighted that her dog was chosen and said "Angus has a great variety of places to visit with your dog. There are beautiful beaches such as Lunan Bay, glens where we can head up into the hills and farmland and forest to explore in between. There's also historic sites like Edzell Castle and the Catherthun forts. Moss loves to go out exploring and adventuring and we were already active on social media; sharing tales and photos of our adventures locally and further afield. She came to me as a rescue, having been found as a stray and was terrified of people. But she has blossomed into a lovely, confident, active dog who is curious about everything. Moss is definitely going to bring enthusiasm to her new role."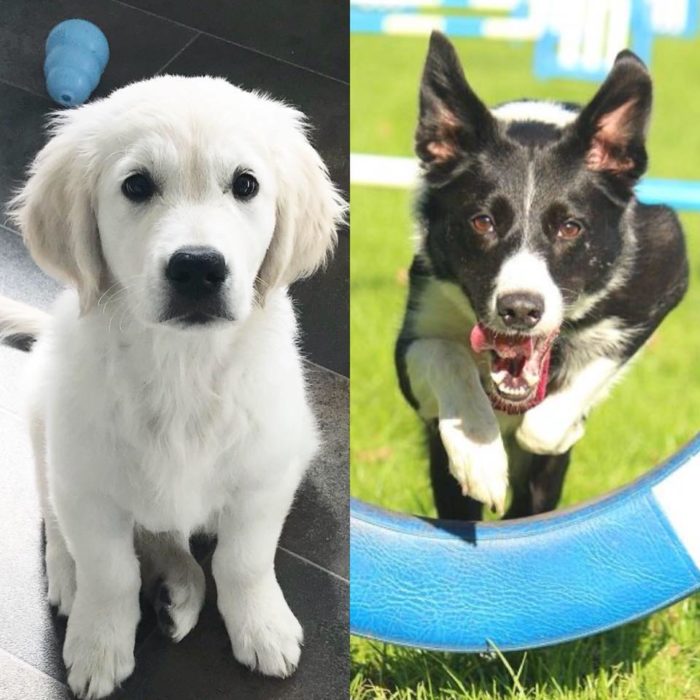 But it won't be just the great outdoors that will be getting the Ambassadog 'bark' of approval. The Ambassadogs will also be visiting and reviewing dog friendly businesses throughout the county
Jarvis' owner, Debbie Thomson said "when he's a fully grown Retriever it will be a good test for any dog friendly business to see how dog-friendly they actually are. It's all very well being able to accommodate a smaller dog, but a 40kg golden retriever is a different matter! Gaining insight can help locals and people coming to the area choose where they go to spend their time and money with their dogs.
The Ambassadogs will be working with members of the Angus Tourism Cooperative to create a better online profile of the dog-friendly businesses and places within Angus through their social media channels. ATC member Vicky Gunn from Millies Pet Services in Carnoustie said "We've had a fantastic response to the campaign so far, with our Dog Friendly Angus facebook group growing to include over 3400 members; all eager to learn more about the places and experiences they can enjoy with their 'furiends'. We are all looking forward to having a fun filled year with our Ambassadogs and our members."
You can follow Moss and his adventures on https://www.instagram.com/colliefullife/ and Jarvis on https://www.instagram.com/goldenboyjarvis/